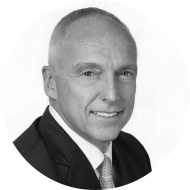 Michael L. Gerrard
Senior Managing Director
Mr. Gerrard is one of the Founders of BroadSpan and the firm's CEO. He has been a Managing Director with BroadSpan since 2001. Mr. Gerrard has more than 21 years of experience as an investment banking advisor in Latin America and the Caribbean and has led transaction teams in 15 countries. While with BroadSpan Mr. Gerrard has successfully advised global and regional corporations, financial institutions and government entities in a variety of complex mergers, acquisitions and restructuring assignments throughout the region and across industry sectors.
In addition to his other responsibilities, Mr. Gerrard heads BroadSpan's Financial Restructuring Advisory practice and is a member of the firm's Board of Managers and Executive Committee.
Prior to BroadSpan, Mr. Gerrard managed the Latin American Capital Markets division of Barclays Capital, the investment banking arm of Barclays Bank PLC, where he was responsible for capital markets origination, structuring and execution in Latin America and the Caribbean. While with Barclays, Mr. Gerrard structured and executed over $3.5 billion of cross border financings for private and public sector issuers throughout the region via 33 competed transactions.
Mr. Gerrard is a member of the Institute of International Finance's Special Committee on Financial Crisis Prevention and Resolution and is a Member of the Board of Trustees of the Miami Science Museum.
Mr. Gerrard received his M.B.A. from The American Graduate School of International Management (Thunderbird) and holds a B.A. in Finance from the University of Miami.
Spoken languages: English, Spanish, Portuguese.
This email address is being protected from spambots. You need JavaScript enabled to view it.