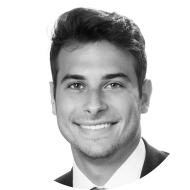 Pedro Mello
Analyst
Pedro Mello is an Investment Banking Analyst with BroadSpan's Miami office supporting M&A and Restructuring transactions in Latin America and the Caribbean.
Prior to becoming an Analyst, Mr. Mello worked at the firm under an internship program.
Mr. Mello received his BA cum laude from Florida International University with a major in Finance.
Spoken languages: Portuguese, English, Spanish.
This email address is being protected from spambots. You need JavaScript enabled to view it.