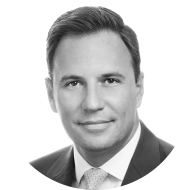 Noah Kessler
Managing Director
Noah Kessler is a Managing Director in the Financial Restructuring and Investment Banking group at BroadSpan Capital, based in Miami. He also serves on the BroadSpan Capital Management Committee.
Prior to joining BroadSpan Capital, Mr. Kessler worked at Merrill Lynch in New York. For over 15 years, Mr. Kessler has advised global and regional corporations, financial institutions and government entities in a variety of complex transactions and restructuring assignments throughout 14 countries and across multiple industries.
Mr. Kessler is a frequent panelist at conferences and active participant with the Institute of International Finance. In addition, he is an active member of multiple non-for-profit boards in South Florida.
Mr. Kessler received his BA magna cum laude from Florida International University with a major in Finance and minor in Economics and his MBA from the Kellogg School of Management at Northwestern University.
Spoken languages: English, Spanish.
This email address is being protected from spambots. You need JavaScript enabled to view it.