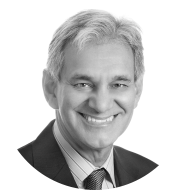 Mario Espinosa
Senior Advisor
Mr. Espinosa is a Senior Advisor based in the Miami office. Prior to joining BroadSpan in July 2017, Mr. Espinosa was Managing Director and Co-Head of Citi's Latin America Debt Markets Group. He has 30+ years of investment banking and debt markets advisory experience in Latin America, based in New York for 14 years and in Miami for the last 6 years. In this capacity, he led the debt restructuring of some of Latin America's largest corporations, such as Cemex, Grupo Cementos Chihuahua, Pacific E&P, Endesa and others, representing over $24 billion of debt. He co - managed a team of 18 debt markets specialists located in New York, Mexico, São Paulo and Bogota. He is a frequent speaker at corporate banking conferences in the region, and his transactions have won numerous Industry awards.
He was one of about 20 Senior Securities Officers at Citi worldwide, with approval responsibilities for debt underwriting, bridge lending, and leveraged lending in the region. Prior to his assignment in New York, he worked in Mexico for 11 years, and led Citi's debt markets business in the country. He also was Corporate Bank Head for Citi in Panama.
Mr. Espinosa is on the board of directors of the Calvert Foundation, an impact investment firm based in Washington, D.C. He obtained his BS in International Economics, School of Foreign Service, Georgetown University, and is a MS candidate in Economics, The Fletcher School, Tufts University. He is fluent in English and Spanish and proficient in French.
Spoken languages: English, Spanish.
This email address is being protected from spambots. You need JavaScript enabled to view it.