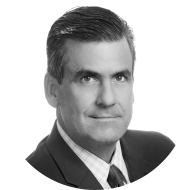 Tony Egui
Managing Director
Mr. Egui is a Managing Director of BroadSpan Asset Management ("BSAM") and Lead Portfolio Manager for BSAM's liquid fixed income strategies. He has over 20 years investing and trading experience in Latin American fixed income and credit markets.
He was previously a Managing Partner of Adelante Capital, a Caracas-based advisory services firm focusing on Latin American fixed income, foreign exchange and derivatives markets. Since its founding in 2002, Adelante successfully provided investment management services to institutional clients and high net worth individuals, consistently delivering returns that have outperformed relevant benchmarks in the region. Mr. Egui was specifically responsible for Adelante's Investment Committee and all investment banking and brokerage/custodian relationships.
Prior to Adelante Capital, Mr. Egui held senior management positions at the Latin America division of Barclays Capital, the investment banking arm of Barclays Bank PLC. Mr. Egui was Head of Fixed Income Trading from 1993 to 1998, running all of the Bank's exposure to sovereign and corporate bonds in the region, with industry-leading proprietary and market-making turnover. Between 1998 and 2001, Mr. Egui was Associate Director of Debt Capital Markets, where he led origination and execution efforts for frequent sovereign and corporate borrowers.
Mr. Egui co-founded and is currently a Board Member of Superatec, a Caracas-based NGO which promotes IT education and labor market inclusion within lesser privileged communities in 16 locations throughout Venezuela. Mr. Egui also sits in the Latin America Leadership Committee of Georgetown University's Global Competitiveness Leadership Program.
Mr. Egui holds a Bachelor of Science in Economics and Finance from Universidad Católica Andrés Bello in Caracas.
Spoken languages: English, Spanish, Portuguese.
This email address is being protected from spambots. You need JavaScript enabled to view it.