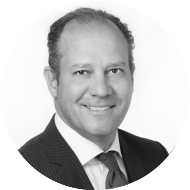 Orlando A. Chiossone
Managing Director
Mr. Chiossone is a founder and Managing Director of BroadSpan Capital. Mr. Chiossone has over 20 years of investment banking experience in Latin America. While with BroadSpan, Mr. Chiossone has been responsible for the origination and execution of a variety of M&A, restructuring and capital raising assignments.
Prior to BroadSpan, he was a Vice President and senior member of ING Barings' Latin American M&A Group. Previously, Mr. Chiossone was a Vice President at Salomon Smith Barney's Global Mergers & Acquisitions Group where he was responsible for the origination and execution transactions in Latin America. In addition, he was an original member of VestcorPartners Group's M&A and Private Equity team. His experience includes numerous advisory and capital raising transactions in excess of US$15 billion, which includes mergers, acquisitions, joint ventures, restructurings, privatizations, capital markets and private equity in Latin America and the US, across a wide array of industries (telecommunications, media, financial institutions, consumer products, energy, etc.).
Mr. Chiossone holds an MBA in Finance and International Business from New York University's Stern School of Business and Law Degree from Universidad Santa Maria in Caracas, Venezuela.
Spoken languages: Portuguese, English, Spanish.
This email address is being protected from spambots. You need JavaScript enabled to view it.