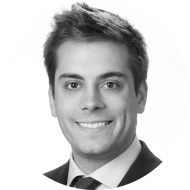 José María Rodríguez CFA
Analyst
Mr. Rodriguez is an analyst at BroadSpan Asset Management.
Prior to BroadSpan, Mr. Rodriguez was a Financial Advisor for Wells Fargo Advisors between 2016 and 2019, focusing on both domestic and international clients. At Wells Fargo, he was primarily focused on designing various investment strategies to specifically meet each individual investors' risk profiles and long term investment objectives in global fixed income and equity markets.
Mr. Rodriguez received his International M.B.A. from Universidad Internacional Menéndez Pelayo in Madrid, Spain and holds two B.A. in Finance, Actuarial Science and Business Management from Universidad de Leon, Spain.
Mr. Rodriguez passed all three Chartered Financial Analyst (CFA®) levels on his first attempt and he is a CFA® Charterholder since April of 2019.
Spoken languages: English, Spanish
This email address is being protected from spambots. You need JavaScript enabled to view it.